Links & Jobs
Links & Jobs
Nevada City (CA) Police Department – Chief of Police
The City Council for Nevada City, California is seeking an energetic and engaging individual to become its new Police Chief. Under the administrative direction of the City Manager, the Police Chief provides police services that continue to enhance the quality of life for those that live, work, and visit Nevada City. To include the Police Chief, the Nevada City Police Department ("NCPD") has a budgeted staff of 18. The Department also has the services of two Chaplains and operates with an annual operating budget of $2.22 million. The Police Chief should be comfortable being part of a small yet highly engaged community and bring a personal style that encourages public dialogue and different viewpoints. The top candidate will be an excellent communicator and be known as a "people person" that strives to collaborate and work toward a shared vision for this community. Nevada City is a community where quality of life and core values are at the forefront of most discussions, and candidates seriously interested in this position will want to be certain they are well matched with expectations, culture, and dynamics of this unique community.
This position requires a Bachelor's degree and 8 years of broad and extensive experience in major phases of municipal police work including at least 3 years in a responsible middle management capacity, preferably in a municipal police department. A graduate degree is highly desired. Other advanced law enforcement leadership training such as the FBI National Academy, SMIP, SPSC, or Command College is a plus.
Nevada City is prepared to offer a comprehensive salary and benefits package that is competitive. The annual salary is currently under review but may be up to $130,000. The position receives CalPERS retirement with two Classic tiers and one PEPRA tier (currently under review).
Interested candidates should apply by submitting a résumé and compelling cover letter to apply@ralphandersen.com no later than Monday, March 28, 2022. Confidential inquiries welcomed to Ms. Heather Renschler or Chief Daniel Hahn (ret.) at (916) 630-4900. Alternately, an appointment may be scheduled for a specific date and time by emailing scheduling@ralphandersen.com. Detailed brochure available at www.ralphandersen.com/jobs/police-chief-nevada-city-ca/.
---
Chandler Police Department
---
Alameda County Sheriff's Office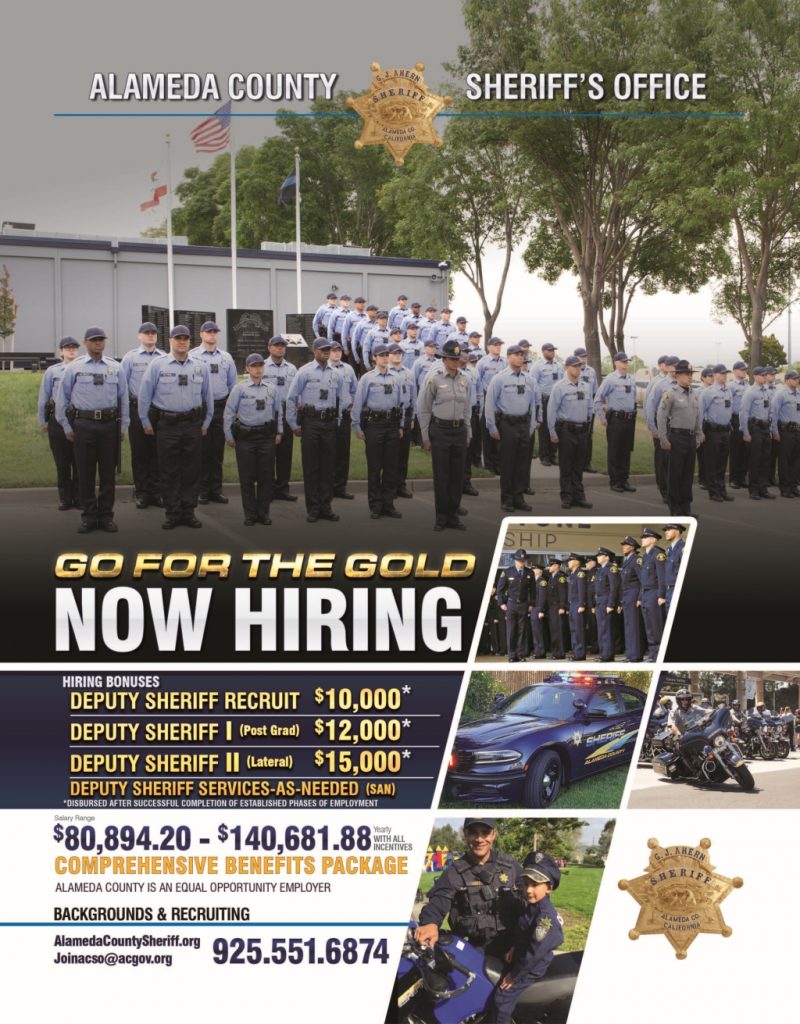 _____________________________________________________________________________

Other Job Opportunities/Careers
Links